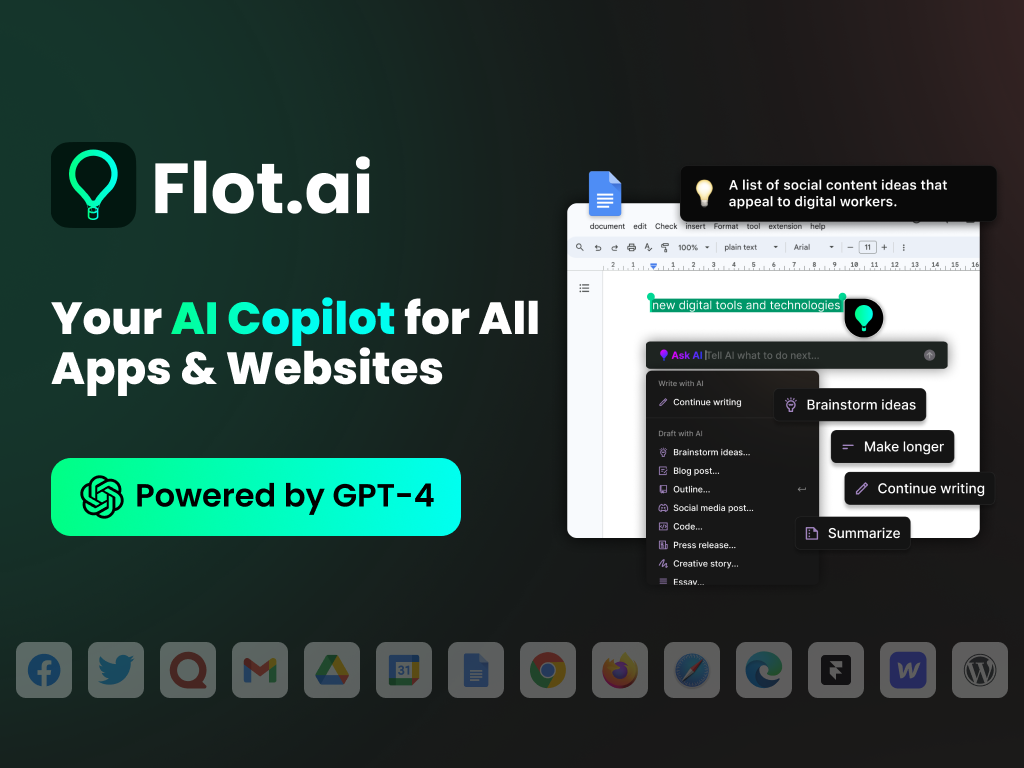 Flot.ai is your personal AI text companion, always ready to assist whenever and wherever you type or select text, across all websites and desktop applications. Here's how Flot.ai empowers you:
AI Copilot: These features are activated by simply highlighting text. They include:
– Text Selection Activation: Enables Flot.ai with a simple text highlight.
– Contextual Understanding: Offers explanations, translations, or summaries.
– Advanced Editing Tools: Provides grammar corrections, syntactic improvements, and improved word choices.
– Tone Adjustment: Adapts text tone to match user preferences.
– More
ChatGPT&GPT-4 API Integration: Flot.ai leverages this for advanced language processing and nuanced communication.
1,000+ AI Prompt Templates: An extensive library that aids writing and editing tasks, with particular emphasis on professional and business contexts.
AI Chatbot Functionality: A core feature providing real-time, intelligent, and interactive responses for enhanced user engagement.
Users
Flot.ai Use Cases cover a broad user spectrum:
– Content Creators: Can utilize Flot.ai's prompt templates to enhance content creation.
– Students and Educators: Benefit from the AI Copilot for understanding complex materials and refining writing skills.
– Professionals: Can leverage the AI co-pilot to translate business communications and adjust text tone.
– Everyday Users: Find great value in Flot.ai for personal digital interactions like email writing or language learning.
In summary, Flot.ai optimizes digital text experiences, positioning itself as a transformative player in AI-assisted text interaction.